11-10-2018 / 12-10-2018
Queen''s University Belfast World Sight Day Events
Queen''s University Belfast World Sight Day Events
11 October 2018 - 12 October 2018
SAVE THE DATE
THURSDAY 11TH OCTOBER 2018: WORLD SIGHT DAY CONFERENCE
FRIDAY 12TH OCTOBER 2018: PAN-IRELAND OPHTHALMIC CONFERENCE
RIDDEL HALL, BELFAST
Queen's University Belfast is delighted to announce two special events happening in October 2018 to celebrate World Sight Day.
World Sight Day is an international day of awareness to focus attention on the global issue of avoidable blindness and visual impairment.
Both days will concentrate on blinding eye diseases and will feature presentations from a host of guest lecturers who are all experts in their field both in clinical and basic science.
For further details, please contact: Sara Shields Telephone: +44 (0) 28 9097 1666 | Email: sara.shields@qub.ac.uk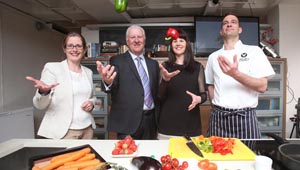 Eating For Your Eye Health: Diabetic Eye Disease Awareness Campaign