14-12-2017
Ophthalmic Post Graduate Teaching Programme 2017
Ophthalmic Post Graduate Teaching Programme 2017
14 December 2017
Mr Peter Barry Memorial Lecture
Time: 5-7pm
Venue : Education and Conference Centre, Royal Victoria Eye and Ear Hospital
Chair: Mr. Dara J. Kilmartin MSc, FRCSI, FRC Ophth, EBOD, Consultant Ophthalmologist and Vitreoretinal Surgeon.
Guest Speaker: Professor Oliver Findl, MD MBA FEBO - 'Lens Surgery and Retinal Detachment: Risks and Prophylaxis'.
Chief, Dept of Ophthalmology, Hanusch Hospital Vienna/ ESCRS Board Member, Head and Founder of the Vienna Institute for Research in Ocular Surgery (VIROS).
Download Flyer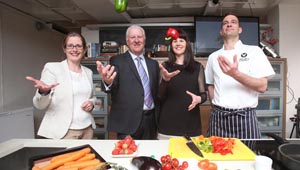 Eating For Your Eye Health: Diabetic Eye Disease Awareness Campaign