24-05-2018 / 28-05-2018
European Assoc. for the Study of Diabetic Eye Complications
European Assoc. for the Study of Diabetic Eye Complications
24 May 2018 - 28 May 2018
28th Annual Meeting 2018
Belfast, Thursday 24th – Saturday 26th May 2018.
This highly respected forum's aim is to promote the advancement of knowledge of all aspects of diabetic retinopathy, including epidemiology, pathology, pathophysiology, investigation and treatment through active collaboration between ophthalmologists and diabetologists.
Beautiful Belfast City has been chosen as the location to bring together experts in the field of ophthalmology and diabetology from all over the world to learn, communicate, interact and build new collaborations. Cutting edge knowledge and research will be shared giving improved treatment for patients with diabetes. The conference will support learning and research into diabetic retinopathy and help to improve patient outcomes.
ABSTRACT SUBMISSION
Closing date for abstract submission is Friday 2nd of February 2018 - midnight.
Abstracts received after this time cannot be accepted. The Board's final decision is expected within approximately 3 weeks of the closing date and you will be notified by email of acceptance.
For a sample submissions form and more information please visit:
https://www.easdec.org/abstracts/
For further information, contact Sara Shields sara.shields@qub.ac.uk / +44 (0) 28 9097 1666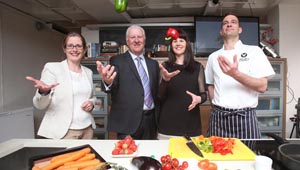 Eating For Your Eye Health: Diabetic Eye Disease Awareness Campaign