Available Posts and Vacancies
HSE Community Ophthalmic Physician Posts
Vacancies exist for the following:
Community Ophthalmic Physician Ref: NRS05073
Posts available in the following locations:
– CHO Area 3 (Clare, Limerick, North Tipperary/East Limerick)
– CHO Area 9 (Dublin North, Dublin North Central, Dublin North West)
– Midlands Regional Hospital Portlaoise
Closing date: Tuesday, 31st October 2017 at 12 noon.
Download Application Form
Download Job Spec
Download Flyer
For further information on these vacancies please visit: www.hse.ie/eng/jobs
MATER MISERICORDIAE UNIVERSITY HOSPITAL, DUBLIN
Ophthalmologist – (Eye Casualty and General Ophthalmology)
Contract: Temporary Part-time
Job reference number: OP/03M/2017
Hours: 20 hours per week
Professional / Academic Qualifications:
Registration as a specialist in the Specialist Division of the Register of Medical Practitioners maintained by the Medical Council in Ireland in the specialty of ophthalmology or ophthalmic surgery.
For informal enquiries, please contact:
Mr Tim Fulcher,
Consultant Ophthalmic Surgeon
Mater Misericordiae University Hospital.
Applications: To apply for this role, applicants must submit their applications:
1. By post:
Applicants should send their Curriculum Vitae (4 unbound copies) including a cover letter, along with the names, addresses and telephone/fax numbers of three referees (two of whom should refer to recent appointments) to:
The Honorary Secretary,
Medical Board,
Mater Misericordiae University Hospital,
59 Eccles Street, Dublin 7.

2. By email:
In addition, applicants should also send a copy of their Curriculum Vitae in PDF format to mboard@mater.ie
Closing date for applications: 29 September 2017
Further details available at http://www.mater.ie/healthcare-professionals/job-opportunities/
The Mater Misericordiae University Hospital is an Equal Opportunities Employer and welcomes applications from all sections of the community regardless of gender, age, race, religion, marital status, sexual orientation, disability, membership of the travelling community, or family status

ROYAL VICTORIA EYE AND EAR HOSPITAL & TALLAGHT HOSPITAL
Applications are invited from suitably qualified candidates for the following positions:
OPHTHALMIC PHYSICIAN (0.5 WTE)

Based in RVEEH & Tallaght Hospital.

OPHTHALMIC PHYSICIANS

Based in RVEEH

Full-time & part-time positions available
Full particulars in respect of the above posts are available on the Royal Victoria Eye and Ear Hospital website at www.rveeh.ie or from the Medical Administration Department at 01 6343615.
Candidates should submit a full Curriculum Vitae (3 copies) with a cover letter nominating three named referees (one of which should be current) to the Medical Administration Manager, Royal Victoria Eye and Ear Hospital, Adelaide Road, Dublin 2 to arrive not later than:
Midday on Friday 15th September 2017
Download the Advertisment Flyer
MANAGING DIRECTOR
ROYAL VICTORIA EYE AND EAR RESEARCH FOUNDATION
Download the Job Description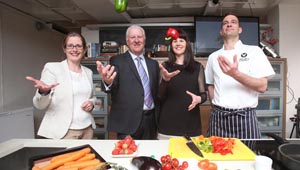 Eating For Your Eye Health: Diabetic Eye Disease Awareness Campaign