Available Posts and Vacancies
Retinal Clinical Research Fellow Post 2018/19
Mater Misericordiae University Hospital, Dublin
Applications are invited for candidates to apply to the Mater University Hospital / Fighting Blindness Clinical Research Fellow post (39 hours per week).
The successful candidate will have training in Inherited Retinal Degeneration, develop the Inherited Retinal Degeneration Register at the Mater Hospital and Temple Street Children's Hospital as part of the National Programme (Target 5000). This programme is now well established and the fellow will be responsible for recruitment of new patients and management of existing patients working alongside the consultant, scientists, genetic counsellor and geneticist to manage their care.
There will also be exposure to working in the Diabetic Retinal Treatment Centre at the Mater University Hospital. That aspect of the role involves the assessment and management of patients with diabetic retinopathy referred from Retina Screen to the Mater Hospital.
Teaching is provided via formal sessions, supervised clinics and journal club. There are exciting research opportunities through the post. The fellow will be expected to publish and present work at national and international meetings. There will be exposure to cataract/retinal surgery and laser.
Minimum of 2 years experience in Ophthalmology is essential.
The closing date for receipt of applications is Friday 23rd March 2018.Interviews will be held on Friday the 6th of April
The post is due to commence on July 9th 2018 for a period of one year.
Enquiries should be directed to Mr David Keegan (dkeegan@mater.ie) / +353 1 8307059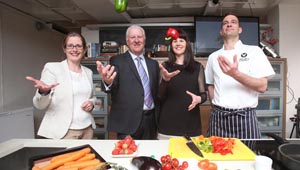 Eating For Your Eye Health: Diabetic Eye Disease Awareness Campaign