08-11-2019
Neuro Orthoptic/ Ophthalmology CAG Dublin 2019
Neuro Orthoptic/ Ophthalmology CAG Dublin 2019
8 November 2019
On Friday 8th November 2019 the Neuro Orthoptic CAG in association with the British and Irish Orthoptic Society will be hosting their annual study day in the Mater Hospital, Dublin.
Irish Ophthalmologists are invited to attend and registration is done via the British and Irish Orthoptic Society website / events section here
An exciting agenda is planned with presentations from Neurologist Professor Dan Healy, Consultant Neuro Ophthalmologist Tim Matthews and Neuro Orthoptist Liz Tomlin.
You are invited to submit topics for presentation/ posters. There will be a prize for the best presentation and poster. Submissions to neuroorthoptics@orthoptics.org.uk
Support fuding is available for ICO trainees and doctors registered on the CPD SS. If you wish to attend, please register through the ICO membership portal by October 25th and the College will contact you directly.
Download Flyer here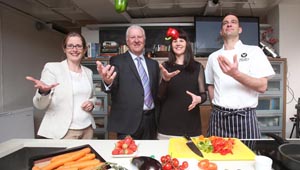 Eating For Your Eye Health: Diabetic Eye Disease Awareness Campaign