12-12-2017
Sightsavers Celebrate One Billionth Treatment
Sightsavers Celebrate One Billionth Treatment
12 December 2017
Time: 5.30pm - 8.30pm
Venue: Cusack Stand, Croke Park Stadium, Dublin 3
Sightsavers is celebrating its one billionth treatment delivered to people affected by neglected tropical diseases (NTDs) with a public event at Croke Park Stadium in Dublin on 12 December.
The occasion will celebrate reaching this milestone in treating and preventing devastating diseases like River Blindness and Trachoma in some of the worlds's poorest countries.
Partners who have helped us reach this milestone will speak at the event, and Salimata Bocoum, Sightsavers' Senegal Country Director, will share her experience of efforts to eliminate the diseases in her country. An exhibition will highlight the stories of people affected by NTDs and how their lives have been transformed by the treatments.
The Dublin event is part of global celebrations to mark the occasion, with events also taking place in London and Nigeria.
To register for free tickets, email lhayes@sightsavers.ie or click on this link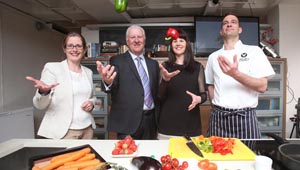 Eating For Your Eye Health: Diabetic Eye Disease Awareness Campaign