A Career as an Eye Doctor
A Career as an Eye Doctor
Ophthalmology in the 21st century is an interesting and exciting specialty. It offers the diagnostic dilemmas of a physician as well as the technical challenges of a microscopic surgeon, both against a backdrop of exciting new therapies and innovative technical advances.
Ophthalmology is the branch of medicine that deals with the anatomy, physiology and disease of the eye and visual system. The specialty of ophthalmology in Ireland includes two career structures – medical ophthalmology and surgical ophthalmology.
The first three years of training is common to each with the divergence occurring at the completion of core training usually at the beginning of year 4.
Type of work
Ophthalmology is a predominantly outpatient based specialty. Surgical ophthalmologists are based in the eye departments of large tertiary-referral hospital. Medical ophthalmologists can be based in both a hospital as well as a community clinic setting. In the out-patient department, patients who require follow-up of an on going ocular condition are seen. Such ocular conditions can be part of aging – cataract, glaucoma or macular degeneration – or may be part of an underlying systemic disease e.g. diabetes, hyperthyroidism, rheumatoid arthritis or multiple sclerosis. In the latter conditions, ophthalmologists work in close collaboration with other specialists including diabetologists, rheumatologists, neurologists, ENT and maxillo-facial surgeons as well as pediatricians and geneticists.
Surgical ophthalmologists usually have two surgical sessions per week. Nearly all surgical ophthalmologists perform cataract surgery. Cataracts are the commonest cause of reversible blindness and cataract surgery is the commonest surgical procedure done in Ireland and indeed worldwide. It is usually performed under local anesthesia as a day case. Cataract extraction or phacoemulisfication surgery as it is now called, has undergone many technical advances in the last decade. It requires the surgeon to have both high technical skill and excellent hand eye co-ordination, which takes many years of training to acquire.
Both medical and surgical ophthalmologists may have scheduled laser and intravitreal injection sessions. Medical ophthalmologists also provide significant paediatric ophthalmology services both in the community as well as in hospital based clinics. Current clinical lead programs in Ireland are aiming for more care to be delivered in community care settings. Although ophthalmology is still strongly a hospital-based specialty this is likely to change, as there will be an increasing demand for ophthalmology care to be delivered in treatment centres other than large hospitals. This will require a new type of ophthalmologist, a team leader able to specialise in the three most common areas of patient need - paediatric ophthalmology, glaucoma and medical retina – as well as manage a team of technicians, ophthalmic nurses, orthoptists and retinal photographers and to co-ordinate patient care between hospital and community locations.
As well as spending their working week in the out-patients, laser suites, injection rooms and theatre, ophthalmologists also spend time delivering eye care in a dedicated eye casualty or accident and emergency department. Here patients with ocular trauma such as eyelid lacerations, globe perforations, chemical burns and orbital fractures are seen. Other sight-threatening eye emergencies such as giant cell arteritis as well as vascular conditions (central retinal artery occlusions) and glaucoma emergencies (acute angle closure glaucoma) are also seen. Most consultant surgical ophthalmologists take part in an on-call rota but night work is unusual. Medical ophthalmologists do not perform on call duties.
Download ICO Training Overview.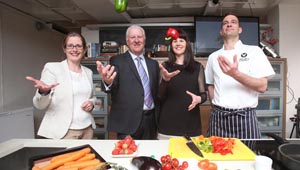 Eating For Your Eye Health: Diabetic Eye Disease Awareness Campaign