16-05-2018 / 18-05-2018
ICO Annual Conference 2018
ICO Annual Conference 2018
16 May 2018 - 18 May 2018
Kilkenny Convention Centre
Lyrath, Kilkenny
The ICO is pleased to announce that this year's Annual Conference will take place at the Kilkenny Convention Centre, Lyrath, Kilkenny from Wednesday 16th to Friday 18th May 2018.
The Conference is a highlight in the ICO annual calendar, providing an opportunity for eye doctors from across the country to discuss the latest clinical and scientific updates and developments in the speciality.
ICO Annual Conference Programme to follow.
Download Conference Registration Form here
Abstract Submission – ICO Annual Conference 2018
The submission of abstracts is now invited for the ICO Annual Conference 2018.
Closing date is Monday, 19th March, 2018
Download Abstract Form
By email only to marian.scully@eyedoctors.ie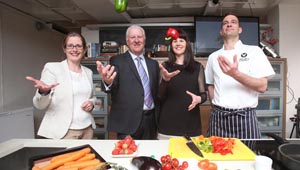 Eating For Your Eye Health: Diabetic Eye Disease Awareness Campaign