04-03-2017
Orbis Flying Eye Hospital - Medical Sector Event
Orbis Flying Eye Hospital - Medical Sector Event
04 March 2017
The Flying Eye Hospital last visited Ireland in May 2007. Ten years on, and with a newly modified aircraft, Orbis will be showcasing the Flying Eye Hospital to their Irish supporters at Dublin Airport on 2-5 March 2017.
Orbis are holding a series of events during a four day programme and plan to welcome over 500 individuals on board the amazing aircraft to learn more about it and the sight-saving work it enables. The aircraft will be hosted by Cityjet Hangar at Dublin Airport which is located 5 minutes' drive from the main terminal.
The world's only Flying Eye Hospital is the result of a unique and lasting alliance forged between the medical and aviation industries.
Orbis' specially designed and converted MD-10 aircraft makes it possible for Orbis to bring ophthalmic training to communities through long term partnerships with hospitals and eye care institutions, and through the online learning platform, Cybersight. Through these variety of tools they train and share resources with the entire eye care team, from health workers in rural clinics to eye surgeons in urban centres, so they can work together to save and restore vision.
Medical Sector Event – Orbis Flying Hospital Tour
Saturday 4 March 2017
Time: 1.30pm – 4pm
On Saturday 4 March 2017 (from 1.30pm – 4pm) Orbis will host a special Medical Sector reception for 60 individuals. There will be a chance for all guests to join a fully guided tour of the aircraft and hear from the medical team involved in the operation of this one of a kind hospital. You will also hear from Irish members of the Orbis Volunteer Faculty, including ophthalmologist Mr Donal Brosnahan. You will also have the opportunity to view an exhibition on Orbis through the years. For more information, visit Orbis.org website.
Visit Orbis website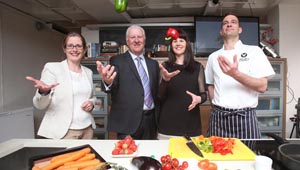 Eating For Your Eye Health: Diabetic Eye Disease Awareness Campaign