08-02-2019
Joint Meeting ICO / Royal College of Ophthalmologists
Joint Meeting ICO / Royal College of Ophthalmologists
08 February 2019
Learning Centre, Royal Victoria Eye & Ear Dublin, Adelaide Road.
Friday 8th February. 9.30am to 12.30pm
Life and Sight Threatening Conditions
Each speaker will focus on a sub specialty of ophthalmology presenting two cases which emphasise the importance of the first visit to the outcome. Audience participation is encouraged. Each speaker will have 20 minutes, including Q&A.
Neuro-Ophthalmology - Mr Mike Burdon, President, RCOphth
Peadiatric Ophthalmology - Mr Alan Mulvihill, Edingburgh
Emergency Ophthalmology - Dr Evelyn O Neill, Dublin
Retina - Miss Julie Sylvestrie, Belfast
The session is scheduled as part of the Royal College of Surgeons in Ireland Charter Day meetings.
For further information on the full RCSI Charter Day programme, please visit;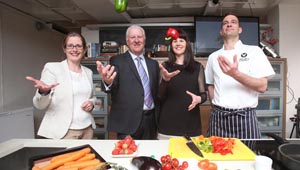 Eating For Your Eye Health: Diabetic Eye Disease Awareness Campaign