28 May 2018
Annual Mooney Lecture 2018
Annual Mooney Lecture 2018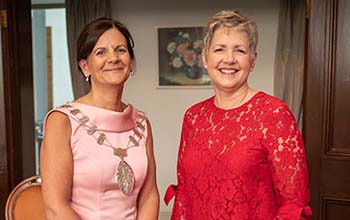 Dr Cynthia Bradford, Professor of Ophthalmology, Dean McGee Eye Institute, Department of Ophthalmology of the University of Oklahoma Health Sciences Center, Oklahoma delivered the Annual Mooney Lecture 2018 at the Irish College of Ophthalmologists Annual Conference 2018 on May 17th at The Kilkenny Convention Centre, Lyrath Hotel.  Dr Bradford is immediate Past President of the American Academy of Ophthalmology.
Dr Bradford's Lecture was entitled "The Challenge of Cataract Surgery – Hard Work to Make it Look Easy". 
Cataract surgery is the best surgical value for improving quality of life for patients.  There have been remarkable advances in cataract surgery, and it now ones of the highest volume day case surgeries performed, however it is often portrayed as a straight forward procedure.   Dr Bradford's Lecture emphasised how the reality is making cataract surgery so successful requires years of training and skill on the part of the operating surgeon.
The surgeon must anticipate possible complicating features of each individual patient and manage unanticipated intraoperative complications that can make surgery more difficult.  There are a multitude of possible complicating factors with some patients having several complex problems.  It takes teamwork with OR staff and anesthesia to give every patient a win.
It is through training, experience and team work that ophthalmologists make tough cases, seem easy.
28th May 2018