28-02-2019
Ophthalmic Postgraduate Teaching Programme 2019
Ophthalmic Postgraduate Teaching Programme 2019
28 February 2019
Venue: Education and Conference Centre, Royal Victoria Eye and Ear Hospital
Time: 5-7pm
Chair: Mr Barry Quill, Consultant Ophthalmic Surgeon, RVEEH
5.05 Clinical Cases - Dr Christine Goodchild and Dr Emily Greenan
Speakers:
5.45 "Corneal Limbal Stem Cell Transplantation - where are we now?"
Dr Josephine Behaegel - Antwerp University Hospital, Vrije University Brussels
6.15 "Corneal endothelial grafts - new techniques, technologies and approaches"
Professor Sorcha Ni Dhubhghaill - Antwerp University Hospital, Netherland Institute for Innovative Ocular Surgery
7.00 Meeting Ends
This meeting will be video-conferenced. ICO Members can login to our members profile to access details for video conferencing.
Please register your attendance, if you are attending in person or joining by video conferencing.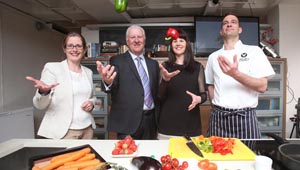 Eating For Your Eye Health: Diabetic Eye Disease Awareness Campaign