AAO 'ONE Network' - ICO Member Access to Online Library
AAO 'ONE Network' - ICO Member Access
The ICO would like to remind members of the resources available to you through the AAO's ONE Network, which now has over 15,000 pages of content, including 1,700 videos and 3,500 downloadable images The Academy want to ensure that members of the ONE Network are getting the most out of the resource and have therefore created a number of tools and communication resources that can assist you in accessing the network.
The recent updates mean that when members log on to use the ONE Network, they will be able to access a greater extent of new content, such as a library of 3,500 free clinical images, basic skills courses, master class videos and self-assessments.
The upgraded facility will also find content easily and quickly using a powerful new search engine and customise a visitors learning experience with the "My ONE Network" tool. The new version also allows members to view clinical content on any mobile device.
All ICO members, including trainees, have access to the ONE Network resource by way of being a member of the College. The ICO strives to keep our members connected to the AAO and provide updates on their on-going activities. The advantages of this close alignment of our organisations is of great mutual benefit.
ICO members have personal login details but if you have any queries or have forgotten your username or password or need instructions on logging in to the ONE Network you can contact the ICO directly or email oneintl@aao.org.
New - Add Your Listing to the ONE Network Global Directory of Training Opportunities
At AAO 2016 in Chicago, a new directory called the Global Directory of Training Opportunities was launched. It serves as a clearinghouse for what the AAO hope will be all ophthalmic training opportunities open to ophthalmologists outside of the United States. The directory was created in response to requests received from young ophthalmologists seeking information about observership and fellowship opportunities.
You can search the directory by subspecialty and region of the world. Each listing includes contact information, should you want to pursue a training opportunity and a space for public comments.
We also encourage you to list a training opportunity if your institution or practice wishes to be included in this comprehensive directory.
Enter the 2017 International EyeWiki Contest
EyeWiki, the AAO eye encyclopedia written by eye physicians and surgeons, is an excellent authoring opportunity for ophthalmologists worldwide.
Enter the 2017 International Ophthalmologists Contest .
To read good examples of EyeWiki entries, see the winners of the 2016 International Ophthalmologists Contest:
· Harrison Bennett; Royal Brisbane and Women's Hospital; Brisbane, Queensland, Australia; Visual variant of Alzheimer's disease
· Hugo R. Salcedo; Hospital Rodolfo Robles, Universidad Francisco Marroquin, Guatemala, Guatemala; Acute Zonal Occult Outer Retinopathy (AZOOR)
· Sara Crisóstomo, Alcina Toscano, Vitor Maduro; Department of Ophthalmology, Centro Hospitalar de Lisboa Central, Lisbon, Portugal; Hypertropia
· Adrián Mauricio Aldrete Lopez, Instituto Técnologico de Estudios Superiores Monterrey, Monterrey Nuevo León, México; Ectasia Risk in Topography
Visit the Recently Revised Global Ophthalmology (GO) Guide
Scan the GO Guide to access region-based care information for developing countries. Recently updated for AAO 2016, the GO Guide features: image libraries, reference charts, tables and algorithms for dozens of topics; tips on travel safety and how to get started volunteering; online CME courses; and international surgical videos.
In the Multimedia section, you will see the winning videos from the 2015 Global Video Contest, including the Grand Prize winner, "Why Suture? Glued Capsular Hook," by Dr. Soosan Jacob of India.

Access the AAO Virtual Meeting
View archived sessions from AAO 2016 in Chicago. About twenty hours of educational content will be available until 19 January 2017.
Content includes presentations from Retina and Glaucoma sub-specialty days, the Spotlight on Cataract session and symposia on Age-Related Macular Degeneration, Diabetic Retinopathy and Corneal Endothelial Cell Disease. You will need your Academy login and password to access the AAO Virtual Meeting.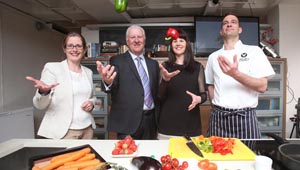 Eating For Your Eye Health: Diabetic Eye Disease Awareness Campaign