Video Conferencing & Streaming
Video Conferencing | Streaming | Telephone Connection Details
Video Conferencing
NEW IP Address: 212.219.85.150 (Room Number 14045) Note: ISDN conferencing systems are no longer supported.
Laptop | PC | Telephone
Join the conference via web browser or telephone (Be advised - We may see & hear you through your web cam/microphone!)
Join live video conference on your laptop | PC | Telephone
Check your connections: Technical test calls will be taken on the day from 4.15pm onwards. Please dial in then to check working connections.
Jake Mac Manus - IT Technician
Cusp Media Video & Multimedia Services
Mobile No: 087 7745 257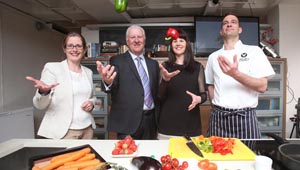 Eating For Your Eye Health: Diabetic Eye Disease Awareness Campaign