15-06-2023 / 17-06-2023
Save the Date - SOE Congress 2023 Prague
Save the Date - SOE Congress 2023 Prague
15 June 2023 - 17 June 2023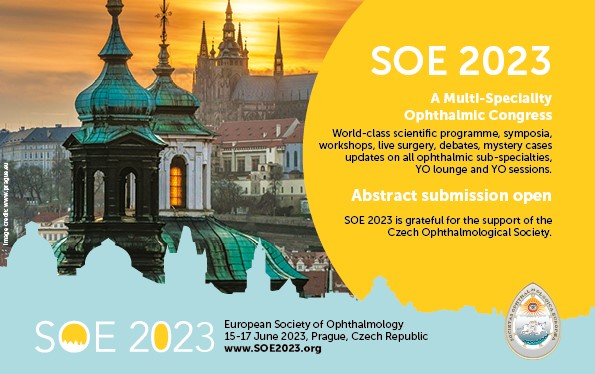 European Society of Ophthalmology (SOE) Congress, 15 - 17 June 2023,
Live in-person Congress
Location: Prague Congress Centre. Czech Republic
A comprehensive ophthalmology meeting, delivering a world class scientific programme with clinical symposia, workshops, live surgery, debates, Young Ophthalmologists (YO) symposia, mystery cases and updates on all topics.
Keynote Lecturers will be the following.
José Barraquer Lecture: Gerd Auffarth (Germany) – Cataract
Thursday 15 June 2023 (13.30 – 14.15hrs)
Robert Machemer Lecture: Marc de Smet, (Switzerland) – Retina
Friday 16 June 2023 (13.15 – 14.00hrs)
Richard Collin Lecture: Michèle Beaconsfield (United Kingdom) – Oculoplastic Surgery
Saturday 17 June 2023 (13.15 – 14.00hrs)
The meeting will be under the auspices of the Ministry of Health of the Czech Republic, and the SOE thank the Czech Ophthalmological Society for their continued support.
For further information visit
https://soe2023.soevision.org/
Web: www.soevision.org