International-Medical-Graduates-Training-Initiative.asp
International Medical Graduate Training Initiative
The International Medical Graduate Training Initiative (IMGTI) is a structured postgraduate medical training programme in ophthalmology for non EU International medical graduates. The programme is co-ordinated by the HSE National Doctors Training and Planning division, the Forum of Postgraduate Training Bodies and the Postgraduate Training Bodies who together have MoUs (Memorandum of Understanding) in place with overseas training bodies. Currently both the College of Physicians & Surgeons of Pakistan and the Sudanese Medical Specialisation Board participate in the Programme.
The IMGTI facilitates suitably qualified trainees to undertake a fixed period of active training in a clinical site in Ireland.
The purpose of the IMGTI is to enable overseas trainees to gain access to clinical experiences and training that they cannot get in their own country (as per the WHO global code, which this programme is developed in line with) with a view to enhancing and improving the individual's medical training and learning and in the medium to long term, the health services in their own countries. This initiative facilitates participants to access a structured period of training and experience as developed by an Irish postgraduate medical training body to specifically meet the clinical needs of participants as defined by their home country's health service.
The period of clinical training provided under the IMGTI is ordinarily 24 months, after which the overseas doctors will be expected to return to their country of origin. The Initiative is aimed primarily at doctors from countries with less developed health sectors and is not intended to lead to settlement in Ireland. Ophthalmic training under this Initiative is provided in clinical departments approved for postgraduate specialist training in Ophthalmology, tailored to meet the IMGTI appointee's educational and training objectives and takes into account the needs of the health service in the doctor's home country. The IMGTI Training Initiative is managed and governed at a national level by a committee comprised of agreed representatives from the HSE and the Forum of Irish Postgraduate Training Bodies in Ireland.
The implementation of the IMGTI Training Initiative requires both the HSE and the Irish postgraduate training bodies to develop robust and collaborative working relationships with overseas educational partners and sponsoring agencies and states.
Download ICO IMGTI Induction Manual 2018
Further information on the International Medical Graduates Training Initiative can be viewed on the HSE website here.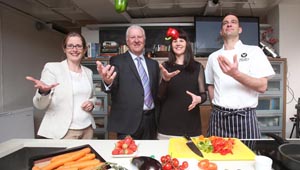 Eating For Your Eye Health: Diabetic Eye Disease Awareness Campaign