Mr Tom Stumpf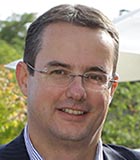 Mr Tom Stumpf
Details

B.M., B.Sc., Ph.D., FRCOphth.
Tom Stumpf graduated in Medicine with Honours and Distinction in Clinical Medicine from the University of Southampton in 1992. He was awarded the Fellowship of the Royal College of Ophthalmologists (London) in 1997 and then completed his higher ophthalmic surgery training in Bristol in 2005. His name is included on the Register of Medical Specialists in Ireland since 2006 and he has been a Consultant in Waterford and Kilkenny since 2007, where he has been building his reputation on high quality personalized care before, during and after surgery. Tom has extensive experience in the fields of glaucoma, cataract and laser refractive surgery with 3 internationally recognized fellowships, in Bristol, Cardiff and Auckland, New Zealand. He is a member of the European Society of Cataract and Refractive Surgeons. Tom was awarded a Doctorate Degree by the University of Bristol for his research on herpetic infections of the eye and has published widely in peer – reviewed journals and presented at numerous national and international scientific meetings. Tom lives in Waterford with his family.

Sub-Specialty Interests

Private Rooms #1

The Eye Surgery, Dean Street, Kilkenny
Tel: 056-7786070
Fax: 056-7702616
Web: http://www.eyesurgery.ie/
Email: theeyesurgery@gmail.com

Private Rooms #2

Suite 15, Whitfield Clinic, Cork Road, Waterford
Tel: 051-359933
Fax: 051-359935
Web: http://www.eyesurgery.ie/
Email: tom.stumpf@whitfieldclinic.ie.