8 April 2020
Important Coronavirus Updates for Ophthalmologists
Important Coronavirus Updates for Ophthalmologists
COVID-19 update and resources for Ophthalmologists
The Irish College of Ophthalmologists continues to monitor closely the advice and information from the Government, the Department of Health and the HSE in relation to COVID-19 management in Ireland.
All medical and health care professionals should be working with their clinical management in developing protocols, in guidance from the appropriate organisations, to ensure that measures are put in place to identify and contain patients with symptoms of COVID-19.
The Irish College of Ophthalmologists joins the global medical community in educating our members on the latest clinical guidance and response to the pandemic.
American Academy of Ophthalmology guidelines for ophthalmologists:
American Academy of Ophthalmology Important Advice for Ophthalmologists
The latest clinical guidance and updates from the Royal College of Ophthalmologists is posted at the following link:
https://rcophth.ac.uk/2020/03/covid-19-update-and-resources-for-ophthalmologists/
ICO members can access further clinical guidance and support resources on the members portal. Please log in via this link
Where to find the latest information for Ireland:
For updates on the situation in Ireland, we recommend checking the following websites:
These websites will continue to be updated, as will the advice from health authorities around the world
Recommendations to prevent spread of infection
Standard recommendations to prevent spread of infection include:
regular hand washing

covering mouth and nose when coughing and sneezing

avoid close contact with anyone showing symptoms of respiratory illness such as cough or sneezing
See the latest updates and guidance of the World Health Organisation https://www.who.int/emergencies/diseases/novel-coronavirus-2019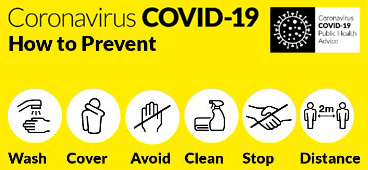 8th April 2020