23 May 2019
Inaugural John Blake Medal for Best Scientific Laboratory Paper presented at ICO Annual Conference
Inaugural John Blake Medal for Best Scientific Laboratory Paper presented at ICO Annual Conference
ICO President Dr Alison Blake and Prof Conor Murphy, Consultant Ophthalmic Surgeon, Royal Victoria Eye and Ear Hospital, present the inaugural John Blake Medal, named in honour of Dr Blake's father, Consultant Ophthalmic Surgeon Mr John Blake, to Dr Alan Hopkins for the Best Scientific Laboratory Paper at the ICO Annual Conference 2019 (15th-17th May).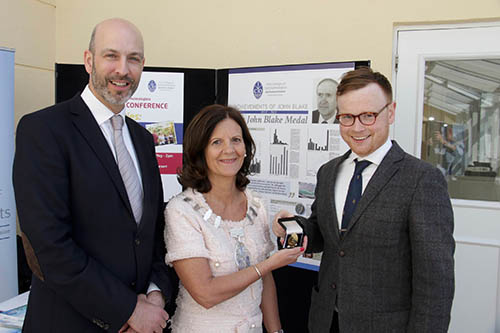 The objectives of Dr Hopkins study entitled "Fundas Fluorescien Angiography in Human Subjects Displays Circadian Variation" was to examine the relationship between the circadian clock, retinal inner blood-retina barrier permeability and their possible role in retinal pathology.
Retinal blood-brain permeability appears to vary depending on the time of day, Dr Hopkin's explained at the Irish College of Ophthalmologists Annual Conference in Galway last week.
"We have shown that in healthy volunteers undergoing fundus fluorescein angiography (FFA) there is a significant increase and more prolonged fluorescein signal in the compared to the morning," said Dr Hopkins, Royal Victoria Eye and Ear Hospital, Dublin.
The study involved 23 healthy human volunteers aged 18 to 30 who underwent quantitative in the morning and evening to assess for any changes in retinal vascular integrity. Fundal images were independently reviewed by a consultant ophthalmologist and Image +J analysis was used for quantification of FFA images.
The investigation showed that the fluorescein signal was more evident and more prolonged in the evening compared to the morning in the same subject and in all macular regions analysed (P < 0.001).
"An inner retina derived supply of systemically derived components to the photoreceptor outer segments and RPE has not been described previously and may represent a critically important physiological process central to the development of a range of retinopathies including age-related macular degeneration (AMD)," Dr Hopkins added
The new research paper
medal is in honour of Mr John Blake (1932-2011), father of outgoing ICO President Dr Alison

Blake, for his tireless campaigning and lobbying of Government in the 1980's to have toughened glass banned in favour of laminate windscreens and to ensure compulsory seat belt legislation was properly enforced in order to prevent horrific eye injuries as a result of car crashes. The enforcement of these measures ultimately led to the virtual elimination of perforating eye injuries from road traffic accidents.
23rd May 2019